A SOLDIER WHO RISKS HIS LIFE TO CARRY A SMALL CHILD TO SAFETY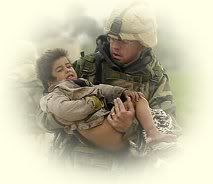 Hello to everyone who stumbles upon my journal today or who purposefully chooses to come visit. I woke up this morning with such gratitude in my heart for the freedom that this day represents. As I opened my eyes and laId there, listening to the tiny birds, sing their songs, I thought about the men and women all over the world who make this day possible for me.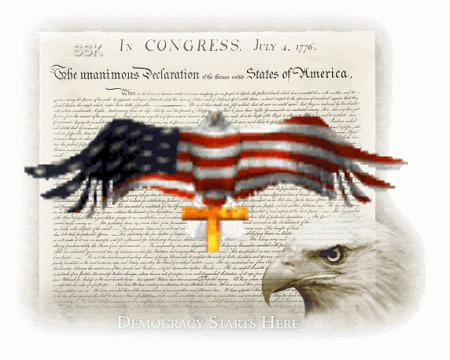 Over two hundred years ago, our forefathers, purposed in their hearts to write the constitution of the United States. The First Amendment, which clearly outlines our rights to freedom, whether it be freedom of speech, freedom of religion, our right to bare arms and many others rights in our Great Country, this United States of America. Men who based their values on our Heavenly Father whom they knew with certainty, was and is the ruler of all things.
It would seem that today, the leaders of our country have forgotten who rules all things. It would seem that our leaders, struggle to interpret the very words of our first amendment with a mind set on compromise to keep everyone happy.
In 1962 when the very first act of taking God out of our children's right to pray in school, our country has spiraled downward. Our Government proudly and forcefully takes God out of our schools, off of our Government buildings, out of our military and off of our money. I ask you, where does that leave those of us who Believe in he who dwells in the secrete place of the most high?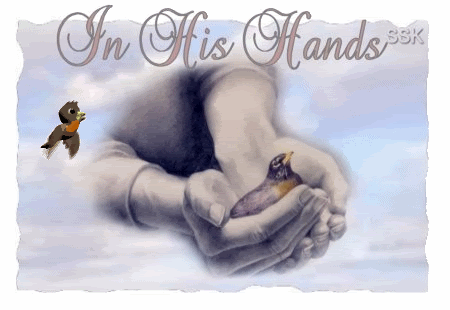 Proverbs 3: 1-4
My son, forget not my laws; But let thine heart keep my commandments; For length of days, and long life; And peace, shall they add to thee, Let not mercy and truth forsake thee: Bind them about thy neck Write them upon the table of thine heart: So shalt thou find favor and good understanding In the sight of God and men.
Somewhere today, there is a soldier who fights back the tears in his heart to find the courage to face another day of violence in an effort to protect our freedom. Somewhere today, there is a soldier who misses their family more than words can possibly express and just wants to come home. Somewhere there is a soldier who only has memories of the simple things in life like picnics and watermelon and tossing a ball with their son. Somewhere, there are soldiers that started this day on their knees, praying to our Heavenly Father to watch over them, protect them, give them the strength, endurance and perseverance to go through another day and fight for our freedom.
As I sit here and ponder this day and the celebrations that will take place all over The United States, I wonder how many of us will reflect on our soldiers who lay their very lives on the line for our freedom. I wonder about the hearts of those men and women who selfishly fight to take away our very rights that these men and women fight to protect. It's not just our enemies in other countries that we need to protect ourselves from but also the men and women in this country who place themselves above our Savior and feel they some how have the right to tell me I can not speak of my heavenly father in public.
It is not these men and women whom our soldiers turn too in the middle of their night when fear grips their hearts and they feel they can't face another day. It is not these men and women whom our soldier looks too for their safety and peace of mind. It is not these men and women who our soldiers pray too for protection. It's our heavenly father who still sits high on the throne and holds the whole world in his hands.
My prayer today is that there will be peace. I pray for the soldiers who bravely face our enemies and fight for our freedom. Lord, I pray that on this day and every day, you pour out your grace, compassion and mercy on our soldiers and keep them in your mighty hands. Give them joy that only you can give them. Speak to their hearts and remind them that you are a mighty and powerful God and that you Lord and only you, have the power to protect them and keep them this day and always.
Today, I honor and pray for blessings over our soldier everywhere. Thank you for all that you do to make it possible for me to wake up in a land that is free and safe and plentiful. If it were not for you, I know that I would not be free. 911 is a constant reminder to me that our enemies do hate us. It reminds me that they have no regard for the lives in this great country of the United States of America. Today, I honor our troops.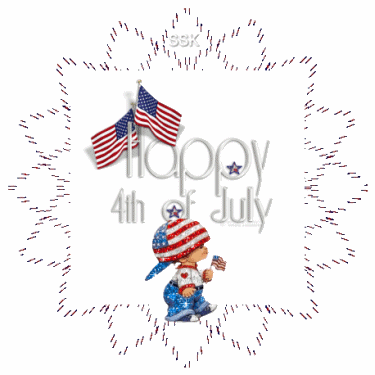 Special thanks to you, Sugar for the beautiful graphics that you bless me with.