The Healing Arms of my Father

Well, Hello to all my friends who read my journal and even to those of you who just happened to drop by. It's been so long since I have made an entry in my journal and I have missed you all. Even though I have not made an entry in quite some time, my thoughts and prayers have been with you each day. I trust and pray you are blessed.
Most of my faithful readers know that I found a church back in October, which really wasn't a new church at all. It's a church that I went too years ago and somehow believed had closed it's doors. New people have joined since I left yet, old friends and familiar faces are still there.
I had such a hard time going back to church because of the one on one relationships that you encounter in a place like that. It's impossible to be in a church that small and not be noticed and approached by others.
Because of my past and things that have happened, I had no desire what so ever to have a personal relationship with anyone outside of the Lord. I was convinced that life was just fine with me and my Lord and I didn't need anyone. I would go to the services and then dart out afterwards, as to not draw any attention to myself.
As time went on, the Holy Spirit would speak to me about different individuals in the congregation and draw my attention to them. Slowly I began to see one by one, penetrating my heart and I just wanted to talk to them and hug them and know them.
It started with my Pastor, Joey. He is such an anointed man of God and it seemed that each time I did a Bible study during the week, Pastor Joey would confirm what God showed me, the following service. That's how God drew my attention to him.
Today I find myself blessed with such amazing Godly people. People who are so filled with the Love of God that they just humble me and touch my heart.
It's seems that the Lord is doing a healing in me that I never believed would be possible again. He carefully hand picks each one and then confirms them to me. I am richly blessed.
I few weeks ago, I found myself being drawn to one of the men in the church but I resisted it, ran from it, tried to push it out of my mind and my heart. I would see him at church and feel a sense of panic as if I need to get away from him as quickly as I could. I knew something was going on and it scared me. I've lived all these years alone and closed to the idea of ever having a mate again and being ok with just me and God.
I began to notice that he was different than other men I have known. He's patient and kind and tender, yet strong. He loves the Lord first and with all his heart. The Lord began to speak to me and cause me to realize that nothing this man was doing gave me a reason to feel the way I was feeling when I was around him so I began to pray and seek the Lord and submit myself to my father.
I couldn't get him off my mind and I was feeling troubled in my heart. Each time he came to my mind, I would pray for him because that's how I deal with anyone the Lord puts on my heart like that.
One day, the Holy Spirit spoke to me and he reminded me of my list. I thought, List??? what list??? That's when it hit me, the list that I have with the Lord, the only exception I would consider, to open my heart again.
He must be so in love with the Lord that nothing shakes his focus. He must be a gentleman and respectful and live his life each day with the Lord as number one. He needs to be kind and loving and have a sense of humor and love me for who I am inside.
When I realized that this man at church was everything on my list and more, it shook me up. I'm not looking for anyone. I'm so content with the Lord being my everything, I don't even know if I have room in my heart for another person. I don't need anyone and just all kinds of justification worked to push him out of my head.
It would seem that the Holy Spirit thought of everything and so he brought into the picture, two very precious women who just seem to know in their spirit, what I'm feeling and going through. Slowly they have reached out to me and become so important in my life that I can't imagine life without them. They just minister to my heart and give me sound, Godly advice and pray for me.
Last week was a huge break through because I made a decision to stop running from it all and let the Lord bless me and trust him. I was a mess though and cried and prayed and cried some more. I almost missed out on the blessing God has for me because of the fear. Memories of my past and things I've been through, clouded my mind and heart and I found myself wanting to be invisible again. All the while, the Holy Spirit just ever so gently reminded me that this man had done nothing to cause me to feel the way I was feeling.
Today, I'm just in awe of the healing that God has done in my heart. I'm at peace and my focus is on the Lord because he's my father and I know he wants only the best for me. My precious friend reminded me to not try to figure things out in the natural but in the spirit. Those words gave me such a profound sense of peace because it made me stop and remember, it's not people I am trusting, it's God.
I don't know what the Lord is doing for certain. What I do know is that this man has captured my heart. Maybe he's just a part of the healing process, the evidence that there are good men in this world who love the Lord. Maybe he will play a big role in my future some day. I am not completely certain but what I do know is that my heart is open again to possibilities of genuine, good hearted friends and maybe even a husband one day.
I'm sharing this with you so openly because I know that I am not the only one who has had their heart broken and betrayed. I know the isolation it can bring and the loss of joy one can feel. I know that is not what God has for any of us and I know he hasthe power to heal a shattered heart like mine.
I hope and pray that those who read this will be blessed by my words. I pray that the spirit of fear will be broken for those of you who are hurting and feel hopeless and I pray that you will open your hearts to the possibilities that exists for healing and fresh love when you humbly submit your hearts to the Lord and trust in his power to heal you, one tiny layer at a time.
I dedicate this entry to my sweet sisters, Tammy and Patricia, who have taken on the huge task of loving me and supporting me through all of this. They pray for me and talk to me and give me such sound and wise, Godly advice. I have not had a one on one relationship with anyone, for many years but today, I have two very precious women of God who call me friend and have penetrated my heart.
I'm leaving you with a poem that Tammy gave to me. It captures the very essence of my heart. The first line spoke volumes to me as I am set on keeping the Lord, the keeper of my heart. May the peace that passes all understanding guard your hearts and minds and may you be richly blessed this day.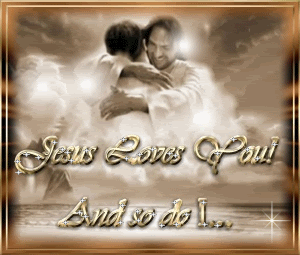 BEAUTIFUL CHRISTIAN SISTER
by Maya Angelou

'A woman's heart should be so hidden in Christ

that a man should have to seek Him first to find her.'

When I say... 'I am a Christian' I'm not shouting 'I'm clean livin''

I'm whispering 'I was lost, Now I'm found and forgiven.'

When I say... 'I am a Christian' I don't speak of this with pride.

I'm confessing that I stumble and need Christ to be my guide.

When I say... 'I am a Christian' I'm not trying to be strong.

I'm professing that I'm weak and need His strength to carry on.

When I say.. 'I am a Christian' I'm not bragging of success.

I'm admitting I have failed and need God to clean my mess.

When I say... 'I am a Christian' I'm not claiming to be perfect,

My flaws are far too visible but, God believes I am worth it.

When I say... 'I am a Christian' I still feel the sting of pain..

I have my share of heartaches, so I call upon His name.

When I say... 'I am a Christian' I'm not holier than thou,

I'm just a simple sinner Who received God's good grace, somehow!

Pretty is as Pretty does... but beautiful is just plain beautiful!