Some of you who read this might think I'm crazy. Some of you might be angered by my boldness to express my beief while others might read this and feel that it's meant just for them and exactly what they need to hear today. It is not my intention to offend anyone or hurt anyone. I sinply feel that God put it on my heart to share this and, like so many others, exercise my right to state my opinion, beliefs and convictions. You are invited to read this and to take what you like and leave the rest. I pray you are blessed.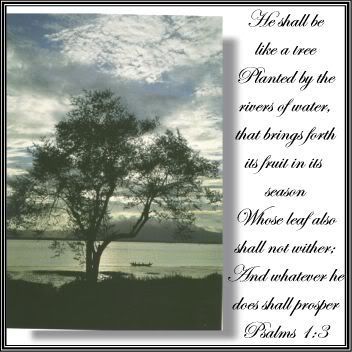 I am humbled by some of the comments that are left in my journal and I truly mean that. If it were not for the fact that I know I serve a mighty God, I would have no ability to understand how God can use me, to get his message to others and touch their hearts and encourage them.
I am simply a person, living in this world, dealing with the trails life can bring and needing to have something I can hold onto and believe in. For me, that something is the Lord and I mean that with all my heart and soul and mind.
I don't have a background of perfect memories of happiness and wealth and status. I honestly believe that there is not one thing in this life time that is cruel, selfish, hurtful or danaging, that I have not experienced. There was a time, not too long ago, I was convinced, without a doubt, that for what ever reason, God had turned his back on me and that I had no hope in this life time. I know now that it was a lie straight from Satan but at the time, I believed it so completely that my choices were the choices of someone who had no hope in being with the Lord one day.
I never completely gave up on God. I actually still prayed and trusted him because knowing who he is and the power he holds has never been a problem for me. I just believed that he didn't love me anymore.
Betrayal by others is the tool that Satan used to break me down to nothing. From my perspective, I was trusting God and praying like I should and I just could not understand how God would allow so many horrible things to happen. Little by little, I began to sink deep into despair so great that I felt as though I was in a deep black hole I could not get out of. Eventually, I started thinking of death and how sweet it would be to not have to wake up another day and not feel such tremendous pain.
God never let go of me. He promises us in his word that he will never leave us nor forsake us. He sent a friend to me who refused to give up on me. In all my anger and hurt and despair, my friend continued to love me and stand for me and remain faithful. After a while, I began to consider the things that were being said to me as more than just good words. After a while, I felt so frustrated that I purposed in my heart to set out and prove to God that he doesn't love me because his promises did not seem to be for me too.
I started with books by people who have experienced huge sufferings and betrayal in their life and yet, some how, God changed them and now they are powerful men and women of God. I felt angry and resentful that God cared enough about them to help them and yet I was still suffering. I started reading my Bible again from start to finish. I used a study Bible that had a lesson for every scripture I read, determined to find something that I could show to God and ask him, why he didn't keep his promise to me.
In the meantime, life was taking a turn for the worse and people I love were leaving my life. My very own daughter walked away from me as though I never existed but I was determined to find answers in this God of mine.
The pain was tremendous. I remember very well, days when I was so sorrowful that I thought I would stop breathing. Broken, confused, angry and hurt, I refused to give up until I could turn to God and confront him on the promises he has broken to me.
One day, I realized that even though my situation was not changing, by all appearances, my outlook was. My faith was growing, my wisdom was becoming greater, my understanding greater, my confidence restored.
Today, I am not the same person, even though the trials of life continue to come at me. My hope is in my God who is the only, living, powerful God in this world. I am no longer controlled by the unfairness of life or the tragedies it brings but my focus is on the Lord and how he see's me and his power and grace to get me through anything. I finally remember where I came from as a child who trusted the Lord with all her heart. I see how Satan has robbed me of so much of the word of God and it's power to create a person who lives in confidence and hope and compassion and forgiveness and love.
The scriptures that I grew up believing in have now brought new meaning and purpose and power to my life and I know that there is only one thing in this life that I can truly put my heart and soul and life into, it's God.
I don't kmow the answers to a lot of the questions people ask me. Why do children suffer, why do people die, why are there poor people and abused people and broken people in this world? How can a God of love and compassion allow such horrible things?
The only thing I know for certain is that there is one truth, " Good and Evil ." Ther are only two sources in which to govern our lives by, God or Satan. We can choose which one we want because God loves us so much, he gives us free will.
The Lord is not a puppet master who strings us along and drops us and then laughs at us. The Lord is powerful and perfect in all things and he longs to have a relationship with us. We can only serve one master. It is not for men to tell us who we are or what we are doing wrong but it's the Lord's right. Everything we need to know to get through this life and live with a joyful heart is in the word of God. It has been my experience that I have to take responsibility to know who God is, what he wants for me and how he see's me. I have to trust him no matter how things seem and purpose in my heart to search him and know him and understand he is God.
Today, even though I still face great sorrow, my everything is in the hands of God and if there is something that is not blessed by God, then I don't want it in my life. His grace and compassion and love is enough to get me through the many trials and heartbreaks and sufferings that this life can bring.
This world has gone crazy. Even a person who does not believe in God or has no relationship with God, can see the wickedness and evil behaviors of men. We allow great sin in our lives and to govern our world because even the smallest of sin has the power to become huge and over whelming, when we choose bad over good.
People fighting to take God out of our country, out of our schools, out of our money and our government buildings. We think that one little change will not hurt anything but that is the very concept that has brought our country to where it is today.
Our children are suffering because Satan hates our children. People are suffering because in their weariness over their children, they turn to alcohol and drugs and sex and allow Satan to enter into their lives, thoughts, beliefs.
There is only one true and living God and he does reign. I know that this is a powerful message to put where anyone can read but this is my truth and God's truth and the very reason why our world is crashing down around us.
I know and have experienced the power of God to change my thoughts and my life and my purpose. Because of God I now have a purpose and it is to let my light so shine before men that God can use me to bring hope to the hopeless.
If I have offended you by my entry, you most certainly have the right to not return to my journal but I will still pray for you. I, of my own accord am no one but because of God, I am someone to him. He knitted me together in my mothers womb. He knows every hair of my head and he catches every tear I cry in a jar. He holds the power to lift me up and restore my life and my joy and my hearts desire. My only requirement is to chooseh him and seek him with all my heart and mind and soul.
If this is something that you are searching for, I encourage you to know the Lord and to submit your life to him and to be blessed by the power of God to change your life and make you whole again. I will pray for you as I pray for myself every single day.
Lord, I pray you will bless the person who is reading this. I pray that you guide every single word I write and every single motive I have. I pray for the preson who is lost and hurting and hopeless that you will make yourself known to them and show them the power that only you have, to create in them, a new song. I pray that you keep me humble, continue to guide me and direct my path and that you Lord, you will recieve the glory and honor and praise for anything and everything, you put on my heart to share.
As for me and my house, I will serve you Lord with gratitude and thanksgiving that in this world of pain and suffering, you and you alone have the power to get me through each day, thankful, hopeful, blessed, encouraged and obedient to you.
God bless and keep you and make his face to shine upon you. You say in your word Lord, we will know the truth and the truth will set us free. My hope is in you Lord and I pray that anyone who reads this and feels encouraged will have a desire to know you better and have a relationship with you. To you, I give all the glory and praise you that even someone like me, can be used by you to help another person.
Most humbly